spectrumAU
Posted: Sun May 04, 2014 1:26 am
Eclair Cake
INGREDIENTS:
• 2 (3.4 oz) packages Vanilla Instant Pudding mix dry (100 grams x 2)
• 3 1/2 cups whole milk
• 12 oz. cool whip (375g)
• 2 (14.4 oz) packages graham crackers (450g x 2)
• - FROSTING -
• 3 Tbsp. butter
• 3 Tbsp. milk
• 3 Tbsp. cocoa
• 1/2 cup powdered sugar
INSTRUCTIONS:
1. Blend milk and vanilla pudding packets for about 2 minutes. Fold in Cool Whip.
2. In a 9" x 13" pan, layer crackers to cover entire bottom of pan. Cut and shape to fit.
3. Poor half of pudding/cool whip mixture on top and level.
4. Put another layer of graham crackers to cover entire surface. Cut and shape to fit.
5. Put the second half of pudding/cool whip mixture on top and level.
6. Put the final layer of graham crackers on top with bumpy side down. This will help the top look smoother when you go to put the frosting on.
7. FROSTING: Microwave butter and milk just enough so that they are melted together. No need to boil it. Add cocoa and powdered sugar and blend together. This will be a runnier frosting. Pour over top of graham crackers and smooth out nicely.(**I usually double the frosting qty)
8. Refrigerate overnight and Dig in!
VARIATION:
Add 1/2 cup of Nutella to step 1.
Add a layer of sliced strawberries, or other fruit after steps 3. and 5.
Add 2 Tbsp. of Nutella to the frosting mix when adding cocoa.
Serves 24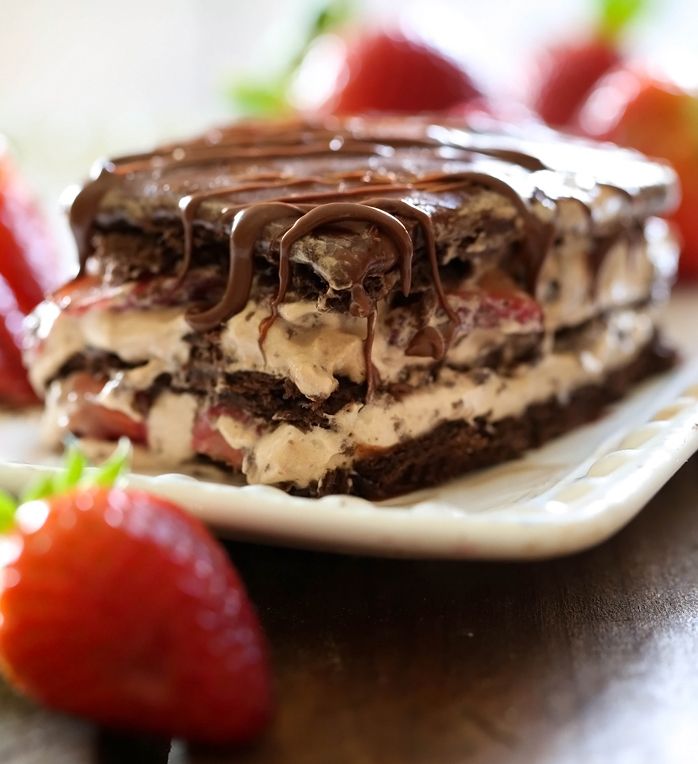 I made half the base recipe and full amount of the frosting recipe. Couldn't buy Cool Whip or similar so used whipping cream and beat it myself. Can't get Graham crackers here so used Arnotts Milk Coffee... just a plain rectangular biscuit, and I used skim milk.

I made the plain version last night. I couldn't wait any longer, just had to try it.

My taste buds are singing!